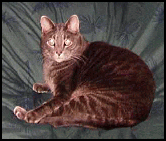 Duncan McDuff
Cat of Great Renown
c. 1990 - 28 June 2003

Duncan lived in Royal Oak, Michigan with Gabe and Audrey Helou for about nine years. He passed away at 10:44 a.m., 28 June 2003 while lying on an old pair of Gabe's jeans (one of his favorite places to recline) at the vet's office. He had suffered from kidney problems the whole time he'd lived with Gabe and Audrey and his kidneys were in the final stages of shutting down completely when he was taken for one last trip to the vet.

This was one fine fellow who will be greatly missed.

---
| | |
| --- | --- |
| The web counter says you are visitor number since February 1, 1996. | |