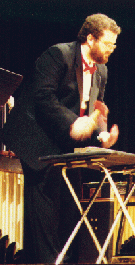 Do you like to hit things?
Then allow me to introduce myself. I'm Gabe, a percussionist with the Farmington (Michigan) Community Band. If you like to hit things such as drums, xylophones, and woodblocks, you should consider joining us. You'll also get the chance to strike anvils, rub sandpaper, blow whistles, and clap slapsticks.
Drop by our website, http://www.fcbmusic.org/, and have a look at the programs from some of our concerts. If you like what you see, it would be a pleasure to see you at a rehearsal.